In this guide we will discuss adding contacts to your Local Directory on your Yealink T19p Office phone.
A local directory will allow you to store up to 1000 contacts locally on your phone in up to 6 user defined groups. Once configured when your phone rings the contacts information will be displayed on the T19p's LCD display and you can access and search this phone book / directory to place calls.
This guide will cover:
Adding contacts to a Local Directory
Bulk CSV upload
Using the Phones UI to add contacts
Adding contacts can then be performed in from the phones admin panel or by using your desk phones UI.
Adding contacts through the admin panel
Step 1:: Login to your phones admin panel
If you haven't logged into your phones admin panel before please click here for a full guide.
Step 2:: Navigate to the contacts tab
Navigate to the 'Contacts' Tab on the main menu of your phones admin panel as illustrated below;
Step 3:: Add Contacts
Adding contacts through this interface can be done in one of two ways. Either manually, by filling out the form (see below),
or by uploading a CSV file.
We have included a formatted CSV template below that you can download and populate with your contact information.
Click choose file -> Navigate to your saved contact.csv file -> select this file and click 'Import CSV'.
Once uploaded you will be able to see your contacts in the list on the contact tab page.
Adding contacts through Desk Phone UI
If you need to add a number quickly to your local directory you can add a contact directly from your phones user interface (UI).
Access and Add to the local directory
Select the 'Dir' soft key just below your T19p's LCD display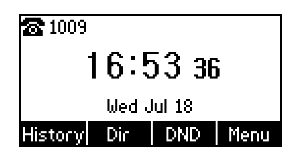 Select '1. Local Directory' -> '1. Contacts'
You can then 'Add' a phone number by filling in their name and scrolling down on the directional keys their number.
Once completed press save to add the contact to your local directory.
Add contact form caller history
A particularly good place to add contacts is in the recent caller 'History' section of the phone.
Select the 'History' soft key -> Option -> Add to contacts
Add a name for the contact and press save to add a user to the local directory.