For many of the guides in this section you will need to log into your Yealink's admin panel (or Graphical User Interface (GUI)) to make changes to your phones local settings.
Note: Please note that changing settings in your phone's admin panel may cause loss of service to your lines. If you are unsure about changing any settings please contact us.
Logging onto your phones admin panel
Firstly we are going to have to get the IP address of your phone. The easiest way to get this information is by pressing the button in the centre of the directional keys on your phone. This will be either an 'OK' button or a Tick depending on the model of Yealink phone you have (See Below).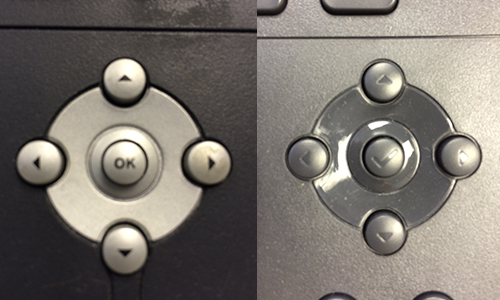 This will bring up your phones Status menu
| | | |
| --- | --- | --- |
| 1. | IP: | 192.168.XX.XXX |
| 2. | MAC: | XX:XX:XX:XX:XX:XX |
| 3. | Firmware | 2.61.0.80 |
| 4. | More... | |
Your IP address is the number on the first line (192.168.XX.XXX)
Open a browser and type this IP address into the address bar. Please note that you must be on the same network as your phone for this to work.
This will bring up a username and password dialogue box. Enter the default Yealink username and password in here (see below).
| | |
| --- | --- |
| Username: | admin |
| Password: | admin |
Once you have successfully logged into your phones admin panel you can close this guide and continue with the next steps.